Exciting Opportunity to Work Globally in Startups: Seeking International Students and Bilingual Japanese Students for Side Jobs/Internships with Manabiya-mom Inc.
At Manabiya-mom Inc., we are actively hiring interns with diverse global experiences, and supporting their growth through career consulting. Interns will be assigned to various tasks related to our client companies' D&I promotion, overseas expansion, inbound promotion, etc. The interns we are currently recruiting will mainly be responsible for marketing work at Meta-Verse Creators Co., Ltd., a start-up established just last month.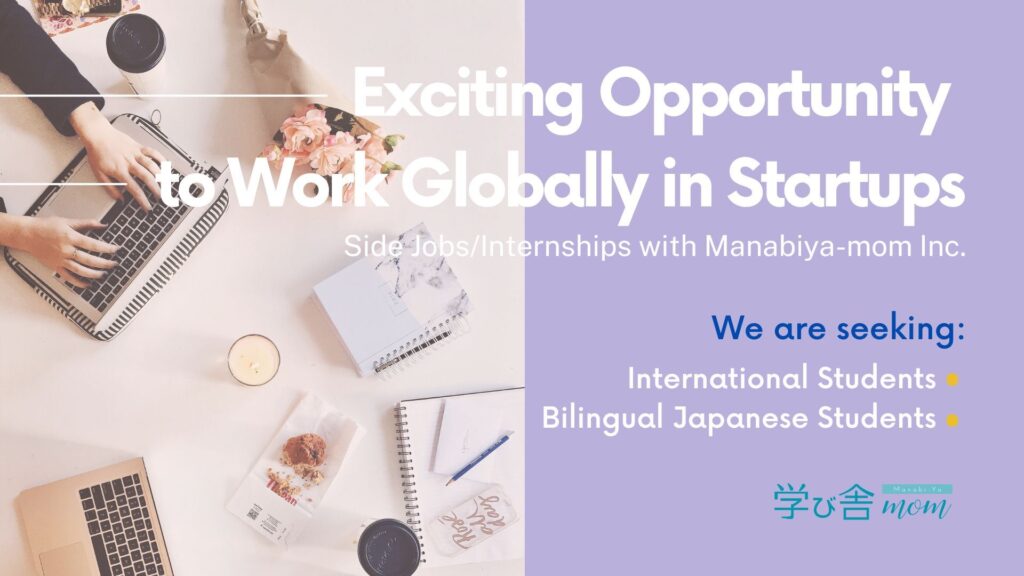 Overview of Metaverse Creators Tokyo <Creating content that bridges Japan to the world.>
Metaverse Creators Tokyo is a production company that brings together top creators in Japan to co-create meta-verse content for the world. We are promoting business with a global team centered around international students. Join us in activities to spread Japanese culture and tourism resources to the world, and expand the possibilities of the meta-verse. Meta-Verse Creators aims to:
– Deliver Japanese culture and tourism resources to the world
– Develop meta-verse content through co-creation with top creators
HOW TO APPLY
To apply, please fill out the Entry Form by May 26th (Friday) at the following link: https://forms.gle/d6y5jvMFpcVSNVgM6
We will contact ALL candidates the following week, and interviews will be hosted online during the week of TBD.
Please also submit your resume via email to info@manabiyamom.com.
If you are interested in receiving information and updates on future internship positions with Manabiya-mom Inc, please send an email to info@manabiyamom.com with the following information: Email Address, First Name, Last Name. The email title should be "Info of Glocal team Internships".
If you would like to watch the briefing video, please fill out the following form, and we will send you the video link within one day: https://forms.gle/fxsuSowhwKWuhHq96
【Summary of Recruitment Information】
* Work Location: Fully remote. For those who wish, there may be occasional office attendance in Tokyo or Nagoya (about once a week).
* Working Hours: Flexible.
* Work Frequency: One day a week or more than five hours a week.
* Internship Period: Two months or more (negotiable).
* Contract Type: During the internship period, a commission contract will be concluded with Mom Study Co., Ltd.
* Eligibility: International students (university students or above) or foreign residents (participation as a side job), bilingual Japanese students (university students or above, a few).
* Essential Requirements: English at a native level, the ability to work remotely (PC, network).
* Desirable Requirements: Respect for creators, an interest in VRChat/Roblox/ZEPETO, and experience with these platforms. The ability to communicate in Japanese at a minimum level.
* Internship Application Period: Deadline on 5/24 (Wed), trial period starts from June.
* Recruitment Process after the Information Session: Application form submission, document screening, online interview (group), trial period (about 20 hours or 1 month, unpaid), final selection, job offer (paid internship: commission contract).
【Job Description】
* In this position, you will be responsible for the following tasks at Metaverse Creators:
* Promotion and research within the metaverse
* Planning metaverse content that will appeal to overseas audiences
* Delivering content through social media to overseas audiences
* As an intern, you can benefit in the following ways:
* Learning from the CEO of Metaverse Creators, Mr. Wakamiya(Waka-san): Waka-san is an entrepreneur who has experienced success in various industries.
* Expanding your global perspective
* Participating in diversity and work-style revolution
* Understanding the latest trends in the metaverse industry
* Collaborating with a global team
* Building a network with members of the Manabiya-Mom Inc., network, which includes employees from major Japanese companies, foreign companies, entrepreneurs, and business leaders. This connection can provide support for your future career.
【Human Resource Development Manager】
Ms. Kiyono Yagami, CEO of Manabiya-Mom Inc., is involved in human resource development. Manabiya-Mom Inc. is a company with extensive experience and expertise in ecosystem promotion and human resource development, focusing on supporting female entrepreneurs. She will support the growth of the Metaverse Creators global team.
【Contact Information】
For inquiries about the global team recruitment, please contact Ms. Kiyono Yagami, CEO of Manabiya-Mom Inc., who is in charge of recruitment.
Phone: 090-8566-8678  Email: kiyono_y@manabiyamom.com
【Reference Materials】
For those who wish to apply, please read the following in Japanese as much as possible and then have an online interview. You don't have to read it beforehand as it's not in English and we want to make it easy for students to understand.
* Post by MetaVerse Creators CEO Kazuo Wakamiya: Why I'm risking my life on the MetaVerse business, as an entrepreneur who has worked on diversity and art thinking, or three components to update Japan.
https://comemo.nikkei.com/n/n5dd9da8c9ec0
* Press release by MetaVerse Creators
https://prtimes.jp/main/html/rd/p/000000001.000120256.html
* Overview and profile of Yagami Kiyono, representative of Manabiya-mom Inc,.